We started the day waking up at the Residence Inn next to the Mayo Clinic.  After breakfast we hit the pool for a nice chilly swim.  It wasn't too cold and once you got it it was actually really nice.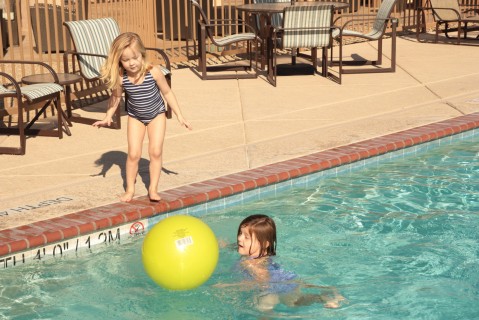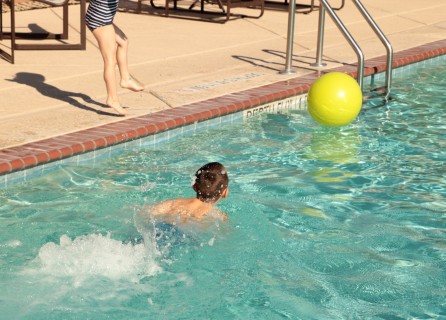 Then we got cleaned up, had lunch in our room and headed over to the Phoenix Temple Open House which was our excuse for staying in a hotel this weekend even though it is only about 1 hour from our house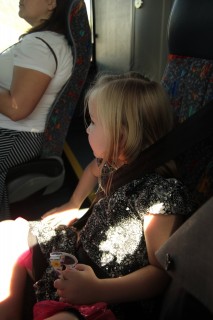 Parking for the tour was at a nearby water park and they had tour buses shuttling people back and forth to the temple. We were hoping to see the
temple from the road somewhere and we were a little surprised that we didn't really see it until we got into the stake center parking lot and the steeple peaked out above the stake center. It was still a beautiful site.
Now here is the crazy part of the story. We got off the bus and walked into the stake center for a presentation. As I step off the bus there was a guy at the front of the bus who looked familiar. As we started the presentation I got another look at the familiar face and I was pretty certain it was a friend of mine from High School. As we filed out of the room I stopped him and asked him if he was who he thought and sure enough it was! We embraced and chatted (as reverently as possible) during the tour and come to find out he has been living in Arizona for the past 5 years.  I had no idea.
Anyway, the temple was beautiful.  Unfortunately, I can't help compare it to the Gilbert temple which really is possibly the most amazing temple I've been in.  We were glad our kids had another opportunity to be inside a temple.  What a cool time to be a part of this church!  Tomorrow we may try and catch a showing of "Meet The Mormons" after we do another morning swim, checkout and go to our Nephew Max's baptism.