A long time ago I used to love arts and crafts. I haven't really done anything since I made a bumper for Jackson's crib right before I had him. I usually make up excuses like: I don't want to spend the money, I'd feel bad spending the time, I don't have a good place to do it, I can't think of anything to do, I'm not good at arts or crafts anymore, etc, etc, etc!
Well, I decided to put those things aside and just do something. I've really enjoyed it, and although you all probably think none of these are anything great, I'm quite happy with how they turned out. I also feel like I've been more productive in my spare time. I used to think, "how do you do crafts when you have kids?" The answer… you don't work on them when they're awake… and if you do, its during they younger ones nap time, and you give the older one glue, scissors, paper, and any other material they want to make their own craft, and let them help you where they can. Jackson has really liked our craft time.
Anyway, here was my first little craft, made from cheap fabric from the fabric store and a few accessories. Its not my usual style, but the price was right and its growing on me.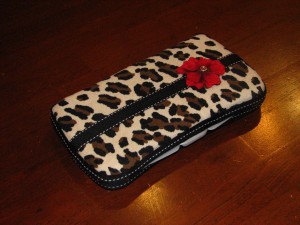 The next one, I got really ambitious and thought I could make 8 in a few days… well, it took about a week and a half  of  a few hours of all my free nights to whip all these out! But Jackson and Lacey LOVE these little skeletons! I think the people I gave them to liked them ok too. It's a fun decoration for Halloween.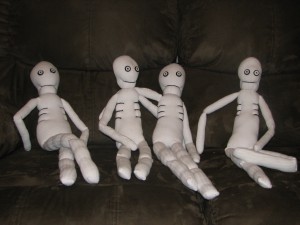 I finally finished this wreath last night… I took a little time to get the bow put together.  I collected the pine cones in Pinetop at the cabin the last time we were there.  I took this picture late last night, so the lighting isn't the best, but I was excited to get it done and see the final result.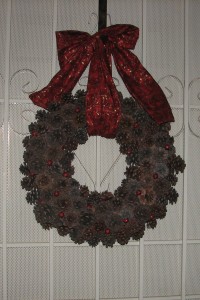 Thanks to Erin, my sister-in-law, for all these ideas!
I have a few projects I'm getting started on soon, and I'll post about them when/if they come together.