What a great time of year – I can't believe it came and went so fast! We definitely enjoyed 2 long weekends in a row – its nice to have Dad around all day!
To start off the Christmas season, at Thanksgiving with Micah's family we received some Christmas decorations from the Tripps and I was so anxious to put them up – Jackson loved the nativity block and advent calendar filled with candy. Then, the night we got home we were surprised with a gift on our doorstep from the Andersons. It was a beautiful manger that was filled with straw and a sweet book to go with it.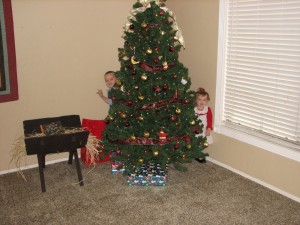 These decorations prompted many, many questions from Jackson and I felt the Spirit while we were given many, many more opportunities to talk about and testify of Jesus' birth to him and Lacey. They definitely helped me to remember the true meaning of Christmas this year.
The Monday before Christmas we had a great little family home evening with most of the Coons family.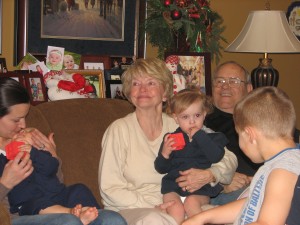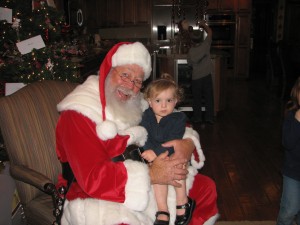 On Christmas Eve we had the Stubblefields' traditional Chinese food for dinner and then went to the Woods for the nativity re-enactment and delicious cookie decorating with part of the Coons family.
Christmas morning was so fun. Jackson didn't wake up until about 8:15. Lacey woke up at 6:30 but had no idea what was waiting in the other room. There were great surprises for all of us!
Then we packed up and went to Mama-great's for breakfast and headed out to the cabin to play in the SNOW! Jackson and Micah stayed out all day Saturday and sledded and played until after dark! Lacey liked the snow, but I should have gotten her some better mittens – then she would have loved it too!
On New year's eve we played games with any family that was still in town – we had a lot of fun! Then New Year's Day Micah got the bikes loaded up, made a picnic, and drove us to a great park! We loved it and had a great time! Sunday was Jackson's first day in Sunbeams. He was a little nervous to leave nursery, but after the first 10 minutes, he warmed up to primary and he told me they had some great snacks in his class:o). I guess we'll see how it goes next week!