Another month (or so) has come and gone… and of course my blogging has been non-existent! So here we go again… another marathon post of all that we've been up to… and it feels like its been a lot!
My Birthday
Micah and the kids and family spoiled me this year, as they do each year for my birthday. I felt so loved. I talked Micah into coming to my 5:15 AM spin class for my birthday ride – it was fun/funny and we had a great time.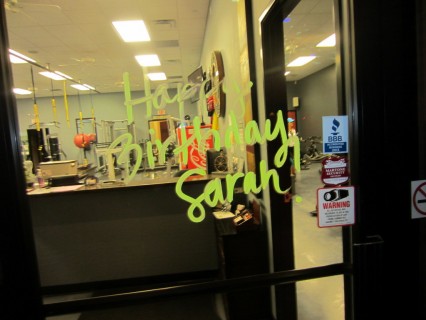 Thanks to Michelle for offering to come stay with our kids that early in the morning, that was beyond nice! She's usually at the class, but because she was running a half marathon that Saturday, that Thursday was one of her rest days. We picked up Einstein Bagels on the way home from the class, Yum, yum! Micah gave me the cutest and greatest purple bike.  Its comfortable like a beach cruiser, but  light weight and  has gears and is incredibly easy to ride. Not very many places have bike racks anymore, I keep trying to run all my errands on my bike because I love it so much. My sisters gave me a gift card to take a class at Sur la table – now I just have to decide on ONE class to take, they all look amazing!  Michelle also gave me a cute beverage dispenser and we've used it all month! I also received cards and money from parents/in laws. Thank you all so much! Most significant this year was that I received a birthday call from Mama and Papa, as they do every year, to sing me happy birthday – a very special memory for me now. Papa's voice was hoarse and Mama told me he was worried about it, but his love and kindness were expressed as sweetly as ever as was Mama's. This was just two days before he passed away. I love Mama and Papa and I miss Papa. What a special gift they gave me this year.
Rachelle's Birthday
Chelle had been excited all month about her birthday! She is darling. She wanted a pink cake with a tiara on top of it that she had seen in a recipe book she chose at Deseret Book, but then at the last minute she chose another cake we saw on Pinterest when Lacey and I were looking at cakes for her birthday.
So we did the new cake, and she hasn't stopped asking me when I'm going to make her cake. She didn't want a white cake, she wanted a pink cake!!!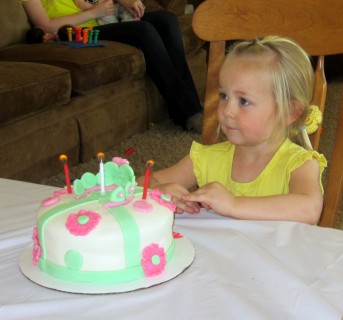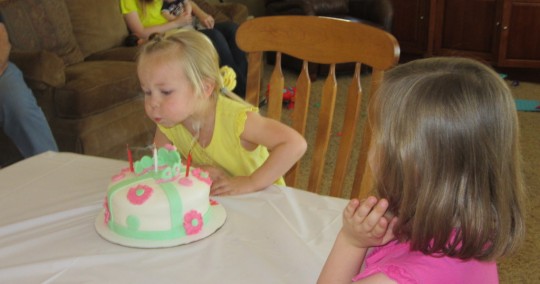 She loved all the little presents she got and so did Lacey. They especially love the magnetic paper dolls from Grandma. Good thing Rachelle is pretty good at sharing. Micah took Chelle to her choice of breakfast, McDonald's. Each child loves the time with Micah… especially since we never go out for breakfast. We went to Lori's on her b-day to celebrate my and her birthday and my Dad's birthday and she was so happy that everyone came to celebrate her. The things that topped it off were that everyone sang happy birthday to her and watched her blow out the candles, and Lincoln and Krista brought a little gift for her to open – a cute Minnie Mouse Camera. It made for a great birthday celebration. She just told me today that she wants her next birthday to be at Lori's too. Rachelle is kind and loving. She tells people she loves them and makes people feel happy. She is usually a peacemaker, and hates to see others unhappy. She is so cute and has the cutest little voice with which she speaks so well. She is a big 3 year old!
Lacey's Birthday
Lacey was well prepared for her birthday – she had waited and waited through two other birthdays for her turn! She wanted a "My Little Pony" cake. We looked at some online and then decided what we would do. She was SO happy with her cake!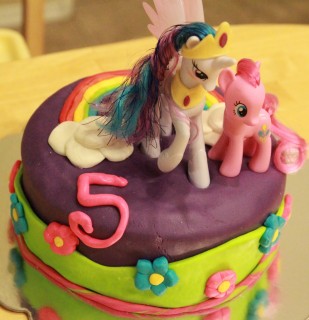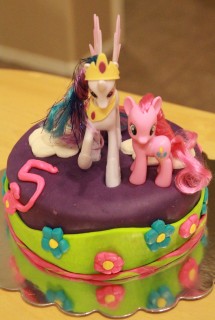 She was thrilled to be the birthday girl! Lacey's birthday falls during our Spring Break most years, so we were able to have her party on her actual birth day and celebrate all week

She went to breakfast with Micah that morning, again to McDonald's. Then we opened presents and played all day.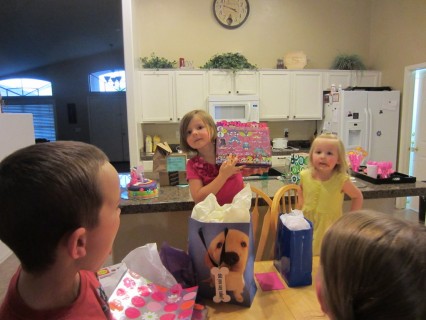 Then we met Anna at the mall to get Lacey's and Anna's ears pierced.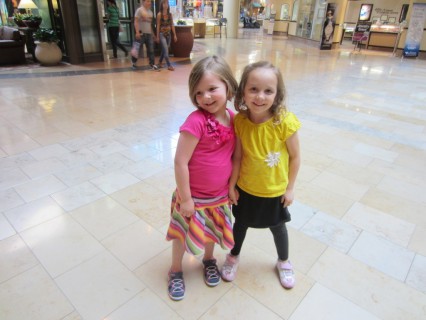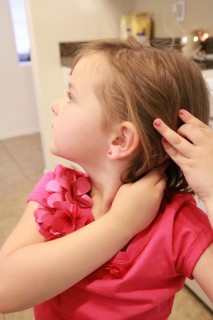 I knew it may not go well, but she walked in fearlessly even after I told her that it hurt and that it was just like a shot. She and Anna helped each other to go through with it. Lacey went first and wasn't sure what to expect. Right after it happened she started crying and was a little mad. Anna still got up in the chair and went through with it. I was so impressed. Not too many tears and they are both happy they have them now! After that experience, we came back and got ready for Lacey's party. We had invited just 4 girls (Anna, Hannah, Anna S. from church, and Mabry from school), and they had a great time roasting hot dogs and marshmallows.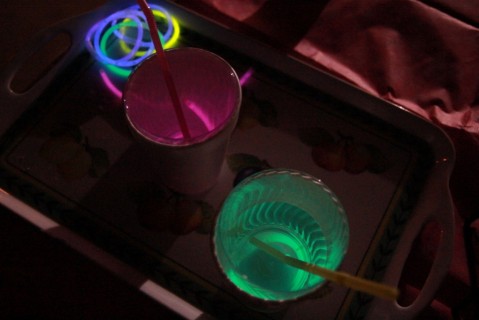 We made these cups that glowed in the dark, but it didn't work as well as I thought.Then we came in and had cake and ice cream and they played ponies for a few minutes as all were leaving. Anna stayed for a later night watching "Princess and the Popstar". It was a perfect day in Lacey's book!  She loves to celebrate and play and have friends over. She is fun, fun, fun all the time! She giggles and laughs and is always doing something goofy! Not too long ago she told me she doesn't want to be a mom, because being a mom is boring

Moms always have to tell kids what to do and stuff. I told her I may be a boring mom but she could be a fun mom! I guess I better step it up a little. Lacey loves movies, she's in gymnastics right now and is learning so many great things. She loves preschool but is a little nervous for Kindergarten. Lacey is very loving.
Jackson's Birthday
We had a great time for Jackson's birthday. We celebrated the Saturday before his birthday because his birthday fell on a Monday this year. We invited his best buddies (DJ, Price, Brandon, Nash, Max, Marie, Jaidyn S, Collin F., George P. – friends from school ) and a few of his friends weren't able to make it (I thought it may turn out that way, I don't know their Mom's very well yet). We played the candy bar game with them as guests were arriving, this time with small pieces of candy and bags to take them home in (I'm getting smarter each year).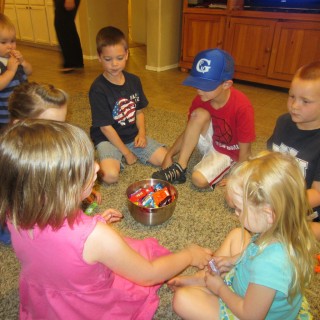 We again roasted hot dogs and smores and had cake and ice cream. We had so much fun – this was an active group compared to Lacey's party. They were playing tag and other games the entire time. They would roast their hot dogs or marshmallows then go play for a while, then come back and roast a little more. They were so funny and good to each other though and made Jackson's b-day party great. Then we came in and had some cake and ice cream. Each one of them wanted to have one of the characters from the cake.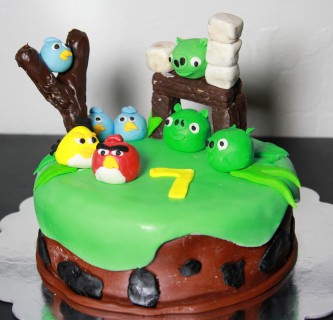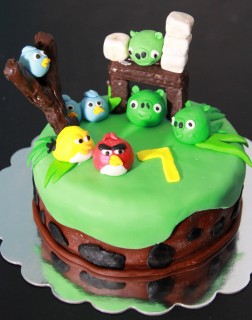 On Monday, Jackson went to breakfast with Micah at Jack in the Box. He opened his presents and loved his skylander giants things from us and grandma. He got his own set of nice scriptures and a cool football case which he treasures. He was so excited.  I got to come to lunch and sit outside with him and a few friends, then he asked me to bring popsicles for everyone in his class. I did, but the teacher's freezer didn't work too well, so that ended up being a mess. Oh well! We love Jackson – he is a good brother and friend. He loves to have fun and play any kind of sport. He doesn't care whether he wins or loses. Well actually he loves to win, but doesn't mind losing as long as he gets to play. He doesn't really love school, but he has a great teacher and he puts up with the rest of it so he can have some time to play at recess. He's been into tether ball this year and of course he loves to play football at recess. He is very smart especially when its a subject he's interested in. He thinks outside the box and asks why a lot more than I ever remember asking as a child. He tests boundaries and makes sure we are keeping our ground

We started reading the Book of Mormon with him one on one this year to prepare for his baptism next year. He is growing up fast… really fast.
Whew! Another birthday month come and gone. What a month!