(originally written December 25, 2012)
Our sweet little baby is one! She wanted to celebrate all day, so she got up early and didn't take a nap! Jackson, Lacey and Chelle were really excited to celebrate her birthday, so it was just an exciting day for everyone. Mamama, Papa dad, Steve, Krista, and Lincoln came to celebrate with some cake and ice cream. Autumn had her own cake and liked it, but didn't get too far past the frosting.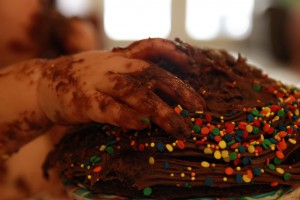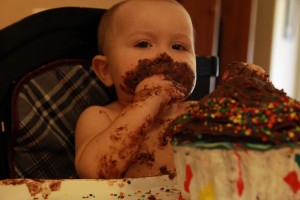 She got this cute little stuffed doggy that she loves to cuddle with and a little musical toy that she LOVES!
Autumn is a sweet baby, but she is becoming more opinionated and has learned how to effectively voice her opinion! She is smiley and SO cuddly! I love how she gives loves and will lay on my shoulder. She had six teeth and just recently got two more on the bottom which brings the count up to 8. She started taking a step or two here or there the week before her birthday, and then she stopped trying for a while. This last week she had started to try and try to walk. Her walking is wobbly, but she's starting to walk almost as much as she crawls. In fact, last Saturday she was walking by a bath tub that some of the kids were in and slipped in a puddle and hit her eye on the corner of the bathtub got a lovely black eye 😉 Who thought walking was a good idea anyway??? she loves to read books, swing, play with the older kids and she absolutely adores chocolate. She escapes outside any chance she gets – nothing makes her happier than to explore the great outdoors.Autumn is a climber! I found her on the couch today. She had gotten up there all by herself and sat there proudly with a little grin on her face waiting for me to see her.
I was going to get 1 yr pictures at target, but then I just decided to go the cheap route and do them ourselves. Well it hasn't happened… I tried last week, but she did not want me to be taking pictures. She was so crabby! So we'll see in the next couple weeks after her black eye goes away if we can get something pulled together.
And here they are: (taken 1/26/13)
Autumns 1 yr stats:
20 lbs